Have you got an idea that precisely what motivates a person to lose a significant amount of weight by adapting to a healthy lifestyle? I should say this: What inspires a person to adopt a healthy lifestyle in the first place?
The truth is that there may be many factors involved that lead to someone transforming its whole body in a way that it not only changes its whole psychology about foods, but also inspire others.
Weight loss is a gradual process, and let me clear that it's NOT A JOKE! I see many realizing the bitter truth of their massive body and unhealthy lifestyle but not acting upon giving up on it.
I was also one of them, even though I knew that being overweight poses many health risks. I continued the same lifestyle for many years.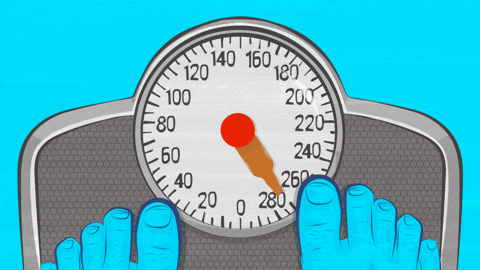 Do you want to know that at the age of 35, with two kids and a 60 hours/week job, what triggered me to shed 55 KGS of weight? What was the motivation behind my body transformation from Size XXXL to a Medium?
I'll leave it for you to guess until the end of this post.
If you need a dose of motivation, then I'm sharing my favorite quotes for weight loss.
Related: My Ultimate Weight Loss Journey
MOTIVATIONAL QUOTE # 1:
"Eliminate the mindset of can't, because you can do anything."

Tony HortonTweet
First, you should believe in yourself that you can do anything, and the weight loss is just a piece of cake.
When I started to think this way, I already opened endless opportunities and possibilities for my life. I used to doubt myself: What if I couldn't make it to the gym every day? What if I crave for the fast-food such that I trash my weight loss plans?
These fears and self-doubts created a crappy sort of self-confidence within myself. So, I started to visualize as a sick and obese person who's most reliant on others to make him stand, eat, and even bath! Then I began believing that I should transform, instead of making excuses.
MOTIVATIONAL QUOTE # 2:
"Obstacles don't have to stop you. If you run into a wall, don't turn around and give up. Figure out how to climb it, go through it or work around it."

Michael JordanTweet
If you clearly understand the importance of a healthy weight, yet you're comfortable with your unhealthy habits. Then find out the obstacles hindering you from adopting a healthy lifestyle.
Since I mentioned previously, the biggest obstacle of my life that never made me lose weight was the self-doubt. I kept turning the other way to keep my self-esteem high up.
Once I started believing in myself, the climbing part was not tough at all. I successfully worked my ways towards a healthy lifestyle and exercise.
MOTIVATIONAL QUOTE # 3:
"If you keep good food in your fridge, you will eat good food."

Erick McadamsTweet
I bite someone's head off when I see them saying that they're trying to lose weight, and yet observing their fridge full of chocolates and soda drinks. Like Seriously!
One of the few first motivations for me to lose weight was to get rid of all the unhealthy items from my fridge. It's natural for many of us to open the fridge each time we feel hungry. I also used to look around the kitchen cabinets and counters for the snacks.
Get yourself in the habit of buying fruits, green vegetables, light milk, and wholemeal bread to start preparing for the weight loss.
A bonus quote for you to bring some laughter:
"It would be far easier to lose weight permanently if replacement parts weren't so handy in the refrigerator." Hugh Allen
MOTIVATIONAL QUOTE # 4:
"Weight loss doesn't begin in the gym with a dumbbell, it starts in your head with a decision."

Toni SorensonTweet
I've seen many of us spending big bucks on the gym membership fee, hiring a personal trainer, or buying the gym equipment for home. Unfortunately, that didn't help them.
So, I want to stress the importance of developing a sincere devotion rather than investing money right away. When you don't have the reason to change yourself for good, the monthly gym membership won't keep you going long enough to sustain a healthy weight loss.
MOTIVATIONAL QUOTE # 5:
"Success is the sum of small efforts – repeated day-in and day-out."

Robert CollierTweet
When you think that weight loss is a long journey for you and that you need to make some significant efforts, it's evident that you'll feel reluctant to make a move towards losing your weight. Because the humans look for comfort naturally.
I used to think the same way. The reality is that I lost 55 kgs bit by bit, I made an effort every day, and the result was evident enough for everyone to inspire and become an example.
MOTIVATIONAL QUOTE # 6:
"New meal; fresh start."

Michelle HymanTweet
As simple as the quote is, you should first change your eating habits to lose weight. You can never be motivated to burn that fat when you still intake fried chicken and chips in your everyday meals.
When you do a fresh start, it pays off.
MOTIVATIONAL QUOTE # 7:
"If you wait, all that happens is you get older."

Larry McMurtryTweet
If you keep thinking: 'When the time will come,' believe me, it'll never come. So, the moment you figure out that you should lose your weight, plan for it now rather than the next hour. Because then you're already one hour closer to becoming old.
"Lord save us all from old age and broken health and a hope tree that has lost the faculty of putting out blossoms."Mark Twain
MOTIVATIONAL QUOTE # 8:
"The hard days are what makes you stronger."

Aly raismanTweet
If the voice of 'give up' comes in your mind way before 'keep going' because you're afraid of the difficulties to come in the weight loss journey, keep in mind that those hard days will give you more strength to fight off your comfort zone.
When I was obese, I had self-doubts in mind whether I'd balance between my work life, parent life, and the workouts. I was weak to make a decision. But once I began gym and exercises, my stamina to tolerate the pain drastically increased that I'd never seen this change before.
MOTIVATIONAL QUOTE # 9:
"If it doesn't challenge you, it doesn't change you."

Fred DeVitoTweet
It's a good idea to challenge yourself to spice up your routine with various workouts and exercise tips. Sticking to your comfort zone will never help you shaping and reforming your body.
MOTIVATIONAL QUOTE # 10:
'Because today is another chance to get it right."

Tweet
Lastly, it's never too late to take a fresh start. Stop thinking that you should've started it way before, when you were a teenager.
At the age of 35 with two kids, I remembered my first day of the gym back in 2017. I was thinking about why I haven't lost weight earlier in life when I was younger? So, believe that the present day is when you should tackle your goals every day.
Final words
We're the champions of procrastination when it comes to the gym, healthy habits and foods. It usually takes years to serve as a wake-up call to come out of the comfort zone and start a healthy lifestyle. For many of you, sticking to a daily routine and weight loss plan is a struggle, though believe me, the hard work is worth it. And the advantage, you'll gain confidence in yourself after burning all that crazy fat within your body!
Now, coming back to what motivated me to lose weight at first?
It was sort of these Inspirational quotes that I've seen around different places on the Internet.
I hope you liked reading this post today. I want to ask you a fun question: What is that one food that you'll never want to give up even on your weight loss journey? Leave your answer in the comments below.